John Muir Live Website
JohnMuirLive.com
is a promotional website for Lee Stetson, a performer who amongst other things portrays John Muir, perhaps most notably in Ken Burns' acclaimed series
The National Parks – America's Best Idea
. 
For this website I designed the layout (navigation; color palette; font choices) and created the assets (logo/header; buttons; slider images; and show description images).
The extremely talented
Nate Baldwin
, of
MindPalette
did all the backend development and coding creating a custom WordPress (WP) Theme, Custom WP Content Types and Templates, Custom WP Plugins.
John Muir Live Social Media
Created accounts, and designed headers to extend John Muir Live brand to social media. I instructed the client on how to post to social media, and helped him manage, and promote events.
Urban Bliss Yoga
I designed this website to compliment it's sister business and daytime location, Cool Baby. At night I headed the Urban Bliss Yoga center and created all design elements related to it; including this website. It was created using Adobe GoLive, both GoLive and the yoga business no longer exist.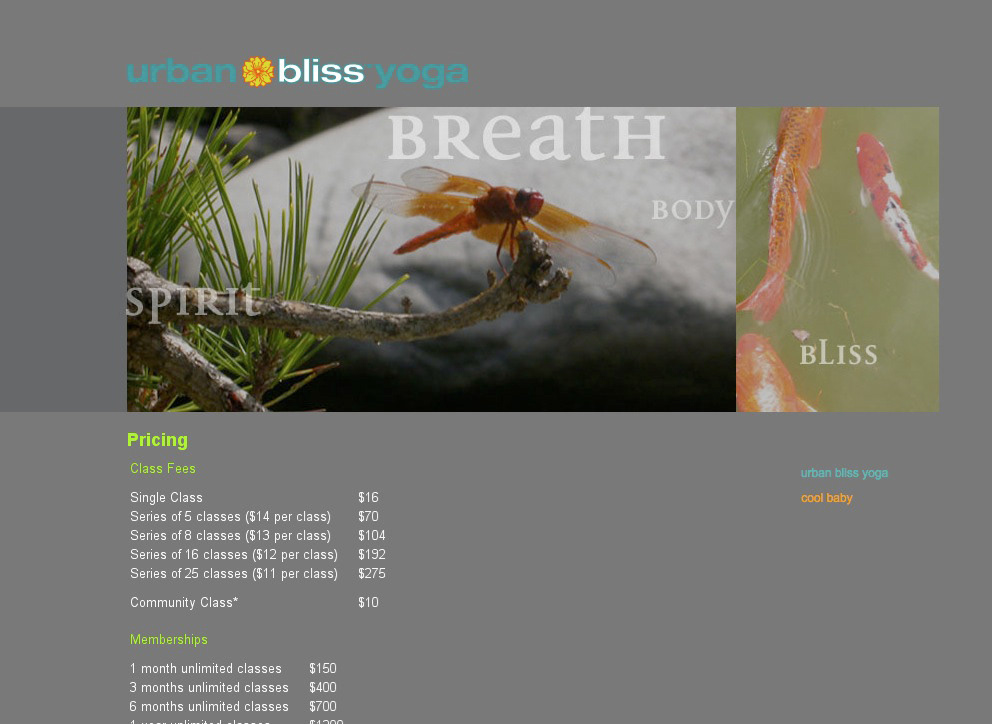 v100 Mod Box
I was commissioned by my client, Vincenz Saccento, to create a website to present this specialized, high-end prefabricated live/work space. Unlike shipping containers, that were popular during this time period, these units were easier to work with, and construct. The website is no longer around, but it served it's purpose, and units were constructed. You can find out more information about v100 Mod Box on
YouTube
. Photography by
Andrew Urban
.